Mount
Home

Feature

Mount/UCD

Mount
Mounts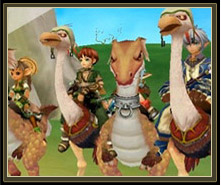 A type of item that can be taken around like a Pet. When a player's riding a Mount, their movement speed will increase.
Players will be able to attack with their Skills while riding a Mount, and obtain Experiences.
However, there are limited skills that can be used on a Mount.
There are differences in the Mount's Moving Speed depending on the Type and Level of the Mount.
Mount Obtain Method
Mounts can be obtained by Quests, and there will be even more different Mounts to obtain in the future.
Pujo & Boman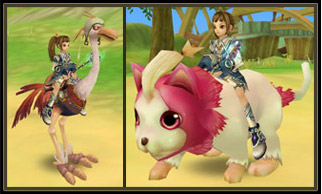 Mounts can be obtained in the Holy Land and Crissium, and the Quest can be obtained at Level 6.
Players will get to choose one of the Mounts by completing these Quests in order. "Share" → "Tame Wild Pujo_1(InDun)" → "Tame Wild Pujo_2(InDun)" → "Cancel Seal" Quest.
Dragoni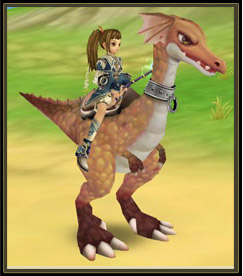 Dragoni can be obtained in Kanto World.
A Scenario Quest can be acquired at Level 35.
Complete the "The 2nd Memorite" Quest, and it can be obtained once the player has completed the 3rd Memorite. But, the Dragoni's Level Limit is 36.
Gyre
Gyre can be obtained in Archahel.
A Scenario Quest can be acquired at Level 50.
Complete the "Misused Holy Water" Quest, and it can be obtained once the player has completed the 4th Memorite.
Mount's Hunger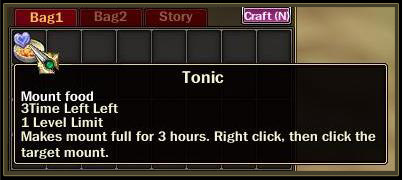 A Mount must have a full Hunger Guage in order to be summoned.
The Mount cannot be summoned if the Hunger Guage is empty.
Players must purchase a "Vitamin" that can be obtained from any Merchant Store and feed the Mount in order to summon it again.
The Mount can be fed by right clicking the "Vitamin" and clicking the Mount
Mount's HP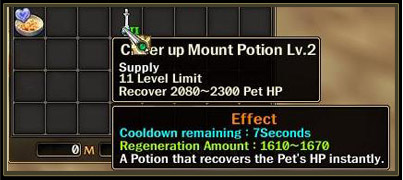 Players must use a Mount HP Potion if the Mount's HP goes down during combat or hunting.
Mount HP Potions can be purchased from any Merchant Store, and it can be used by registering them to the Skill Window or directly from the Inventory by right clicking.
How to Level Up Mounts

Mounts only gain experience if the player hunts Monsters while riding the Mount.

If the player equips a Vitality Oumt on a Monster and cancels the Mount, it'll raise the Party Member's Vitality and will be considered participated in combat for the buff and gain experience points together.
The Oumt will be updated for a variety of usage with Mounts.